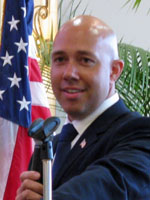 Brian Mast (R)
Background
Growing up in western Michigan, Staff Sergeant Brian Mast enlisted in the military after high school in 1999. For 12 years, he served in the US Army, including time with the Joint Special Operations Commnand (JSOC) as a bomb disposal expert, where he was on the front lines against Radical Islam, finding and disarming improvised explosive devices (IEDs).
While on his last deployment in Afghanistan, he suffered catastrophic injuries resulting in the loss of both his legs, and was awarded the Bronze Star, the Army Commendation Medal for Valor, the Purple Heart and the Defense Meritorious Service Medal.
Throughout his long rehabilitation, he provided his expertise to the National Nuclear Security Administration, the Bureau of Alchohol, Tobacco and Firearms, and the Department of Homeland Security, and recently donned the uniform of the Israeli Defense Forces.
Moving to Florida after his retirement in 2012, he is currently working on a Harvard degree, and would like to continue his service to our country as a US Congressman. He would like to repeal Obamacare, strengthen our support for Israel, stop the implementation of the Iran nuclear deal and oppose the lifting of the Cuban embargo.